Get your commercial building's plumbing system back to running smoothly again.
Not all plumbing systems are the same, especially the ones in commercial buildings as opposed to homes. Commercial buildings are built and maintained differently than everyday homes are, so it's important to find a commercial plumber who understands these differences and can take care of the plumbing issues that show up in these spaces. Here at BL Plumbing Service, we can send over a commercial plumber to inspect, repair, or replace the parts of your San Angelo, Texas commercial building's plumbing system that aren't functioning the way they should be.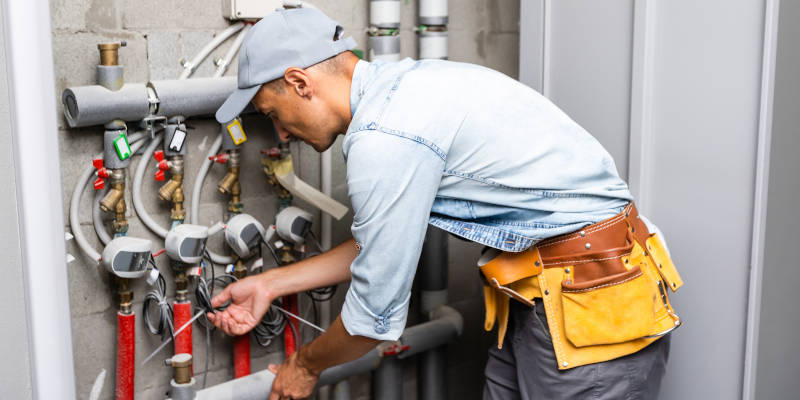 Plumbing systems in commercial buildings are often bigger and more complex than the plumbing systems present in people's homes. For that reason, they require different maintenance and expertise to solve the problems that may arise within the pipes, sinks, drains, etc. A good commercial plumber is able to work with these more complex systems and can help you in ways that a residential plumber may not be able to.
Another important factor relevant to commercial plumbing is the amount of use that a commercial building's plumbing system gets. Oftentimes, many people use a commercial building's sinks, toilets, and other relevant plumbing-related fixtures throughout the day. While any sort of plumbing problem can be a headache, regardless of whether this problem is in an office building or a home, a commercial plumbing issue can more seriously affect productivity and efficiency, so it's important to have a commercial plumber take care of these problems as soon as they arise.
Keep your commercial building's plumbing system up and running properly by reaching out to a commercial plumber with your plumbing needs. If you have any questions, please reach out to us today.

FAQs About Commercial Plumbers
If you own a commercial building or run your own business, you know how important it is to have a well-maintained plumbing system. However, our team here at BL Plumbing Service knows that it can be difficult to remember to schedule regular maintenance in order to keep your system in optimal condition. If you can't remember the last time you had your commercial plumbing system inspected, or if you suspect you may need repairs, contact our professional plumbers today.
How is a commercial plumber different from a residential plumber?
Commercial plumbing systems tend to be much larger and more complex than a residential plumbing system. Since commercial plumbing systems need to operate for many more people than a single household, they need to be incredibly durable to continue to function properly. A commercial plumber will have the specialized training and knowledge required to work on these bigger systems.
What are some signs of a good commercial plumber?
When it comes to something as important as your commercial plumbing system, it's crucial to hire someone you can trust. Our team here consists of highly skilled and thoroughly trained plumbers who prioritize customer satisfaction above all else. We believe a great commercial plumber should be properly educated, have plenty of excellent reviews and references, and offer 24/7 services for any plumbing emergencies. When you work with us, we can guarantee all these benefits and more.
What commercial plumbing services can your team provide?
Our team is equipped to perform any commercial plumbing services your system needs, including inspections, repairs, maintenance, replacements, and more. We even offer installation services for any new components or fixtures you'd like to add. For more information, just give us a call today.